Rag Weavings - Place Mats, Table Runners, Table Mats, Mug Rugs & Handbags
All Rag Weavings from Dream Weaver's Cabin are machine washable. Line drying will extend the life of the product. The sizes given below are approximations.
Place Mats - 13" x 17" - a Cabin specialty,
sold in sets of 4

Order code: WS-PM

$28.95
Table Runners - 13" x 32" - 34" - a very nice accent for your dining table

Order code: WS-TR

$18.95
Table Mat - 12" x 12" - use as a hot pad to protect your table or under a vase or candle

Order code: WS-TM

$6.50
Mug Rugs - 4" x 4" - mini rugs for mugs, cups or glasses; sold individually

Order code: WS-MR

$2.50
Stool Runner - 8" x 21" - top your toilet tank with this Cabin original

Order code: WS-SR

$9.95
Small Rugs - 21" x 30"

Order code: WS-SRG

$22.95
Large Rugs - 25" x 40"

Order code: WS-LRG

$35.95
Handbags -a classy, yet practical complement to a variety of attires--from jeans to the office wardrobe; you'll be right in style with one or our handbags. Size varies slightly from bag to bag.

Order code: WS-HB

$28.95
Weavings - Color Schemes Available
Cabin Colors
Country Victorian - a varying mix of hunter, mauve, burgundy, navy, country blue
Earth - colors reflective of our Mother Earth: rusts, browns, greens, cream and tan.
Neutral - for that subtle look: ecru, cream or tan, a versatile option.
Bold - for a brighter, bold look


Holiday Colors - for Place Mats, Table Runners and Table Mats
Holiday Festive - traditional bold Christmas colors.
Holiday Country - darker hues of the Christmas colors influenced by the Nebraska countryside.
Fabric Option: Denim
Denim complements a variety of decorating schemes, Any of the above color schemes are available in denim. If you prefer the denim look, please note "denim" clearly in the description section of your order form.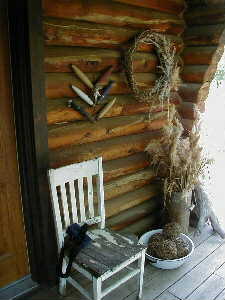 Traditions & Philosophy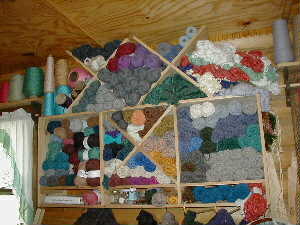 The tradition of rag weaving finds its roots in thriftiness and earth friendly recycling. The rag weavings from Dream Weaver's Cabin - rugs, placemats, mug rugs and more - carry on this tradition of frugality. New fabric occasionally does find its way into our products, so as to enhance a specific color scheme, or to line handbags. Wherever possible, however, we attempt to adhere to our policy of using mostly recyclable material.

Our products give new life to old clothing, such as blue jeans, flannel shirts, and cotton nightgowns; to afghan selvage, fabric and sock remnants from factories; to old bedspreads, drapes and assorted other materials that might otherwise just end up in a landfill.

This policy determines the array of colors from which we can work and the amount of material available for specific color and fabric combinations. Our job as artist and weaver is to take what is at hand and create products of quality and beauty. Duplications are thus limited; but variety is nearly endless. The benefit to you is that your weaving is uniquely yours. Most likely, you'll not see the same place mat set or rugs at your neighbor's!


| | | | |
| --- | --- | --- | --- |
| "Place Mats" | "Stool Runner" | "Rug" | "Rug" |

Ordering Guidelines * * * * * * * * *


Because of our continuously changing supply of fabrics, the Studio's ability to handle custom orders is limited. Instead, we offer several color schemes, from which you may choose. Click here to see those color schemes.
Please carefully review our color scheme descriptions and understand that these are general descriptions. We cannot guarantee that every color listed in the description will appear in the weaving you receive.
We strive to achieve a three week order turn-around time. Orders in stock will be shipped immediately.
When ordering a weaving product, clearly indcate your color scheme preference. If you are looking for a dominant color within a particular color scheme, you may indicate that and we will try to accomodate your request based on our available product inventory.
We offer a 30-day guarantee in which you may exchange your weaving or receive a full refund (excluding handling and shipping costs) should the color scheme not be to your liking.
To Order, call toll-free 1-866-352-2988
Locally in Nebraska, call 308-346-4383