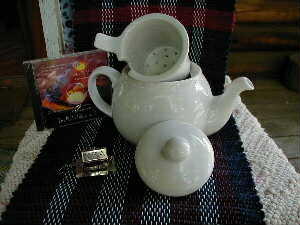 The Perfect Cup of Tea
In the ancient, perfected ritual of preparing tea, the tea is always "brought to the water." Follow this practice whether you prepare a single cup or a pot of tea.
1. Put fresh water in a tea kettle or pan and heat the water until it just comes to the boiling point.
2. While the water is heating up, fill the infuser with the loose tea. Use 1 teaspoon per cup of tea to be prepared; more if you wish stronger tea. Place the infuser, or your bag of tea, in your cup or teapot. Carry this preparation to your water.
3. When the water reaches the boiling point, remove from the heat source and pour over the tea. Cover your cup or teapot and allow the tea to steep.
4. Steep herbal blends, such as any of our Cabin Blends, for 10 minutes. Black teas should only steep for 2 minutes. Longer steeping tends to make a black tea bitter.
Bamboo Infuser - for the purist Order Code: TA-BI

Screenball Infuser with Chain - useful for cups & teapots
Order Code: TA-SI

Screenball Infuser with Handle - great for a cup at a time
Order Code: TA-SIH

Scissor-Style Infuser - the classic single serving infuser
Order Code: TA-SSI

Tea House Infuser - cute and useful
Order Code: TA-THI

Tea Caddy - a resting plce for your tea bags or infuser
Order Code: TA-TC

Tea Tongs - neatly removes your tea bag from your cup
Order Code: TA-TT

Porcelain Teapot - with infuser: 6 cup capacity
Cobalt Order Code: TA-PTC
White Order Code: TA-PTW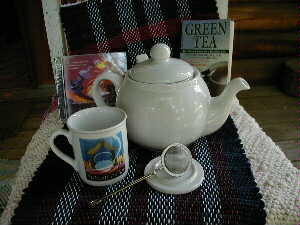 $1.50
$2.95



$2.95


$2.95



$3.50

$4.50



$3.95




$21.25
$21.25