Welcome!!
Whether the herb garden is in bloom or snow is on the cedars, we're hard at work preparing product to meet your needs. Enjoy a cup of your favorite beverage and browse through our website offerings of high quality, earth friendly products---products you'll be proud to give to family, friends, and even yourself!
Choose from our select variety of Quality teas, including our own Cabin Blends.
To complement your gift of tea, we carry various accessories any tea lover would enjoy receiving.
Select from among our Herb or Berry Vinegars for your culinary delight.
Accent your kitchen with a Woodland mug while enjoying our unique selection of musical CDs.
Bring soothing pleasure to anyone with the Cabin's own popular line of personal care products for relaxation, health and the bath.
Browse the Cabin's Weaving Studio, where you will find beautiful and useful rag weavings for the home.
Receive a Free Gift with your order of $100 or more!
Call in your order using our Toll-Free Number (1-866-352-2988) or print off and mail us the handy Order Form. We accept both Visa and MasterCard as well as your personal check.

Thank you for making Dream Weaver's Cabin part of your lifestyle.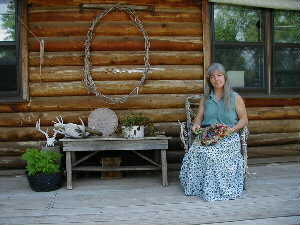 Have a Peaceful Day
Jo & Elmer
Kyle, Seth, Luke & Jake
All Images copyrighted by & the property of the Artist, 2003